About
Hosted by CCRA at Fort Leonard Wood, Missouri
The fourth CBRN Exhibition is hosted by the Chemical Corps Regimental Association (CCRA) and takes place during the week of the CBRN Senior Executive Leader's Symposium at Fort Leonard Wood, Missouri.

Strategically Located at Fort Leonard Wood
Home to the Maneuver Support Center of Excellence, Fort Leonard Wood trains nearly 90,000 military and civilians each year. It is the training headquarters for the Training and Doctrine Command's U.S. Army Chemical, Biological, Radiological, and Nuclear School, as well as the U.S. Army Engineer School, and the U.S. Army Military Police School.

Premier CBRN/WMD Event
This event is the premier gathering of CBRN (chemical, biological, radiological and nuclear) / WMD (weapons of mass destruction) Joint, Interagency, Intergovernmental, Multinational, Industry Academia and CBRN professionals.

Goals of the Exposition
CBRN/ WMD terrorism at home and abroad is a persistent threat with the potential to have mass casualties. The goals of the exhibition is to leverage the CBRN community to provide the best support possible to current operations and Soldiers, as well as, to engage our CBRN strategic thinkers of today and discuss preparations for our next set of challenges.


CBRN Events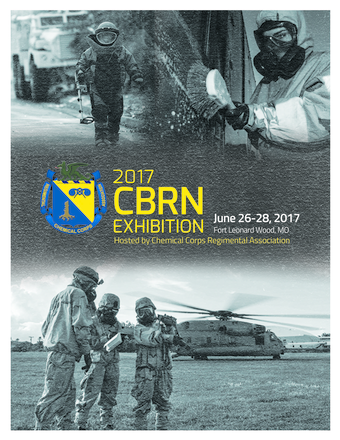 The 2017 CBRN Exhibition takes place during the week of the CBRN Senior Executive Leader's Symposium.
Key Chemical Corps Regiment Events Include:
2017 CBRN Senior Executive Leadership Symposium (hosted by the U.S. Army CBRN School, by invitation only)
2017 CBRN Exhibition
CCRA Golf Scramble
CCRA Barbecue
And, More!
Expo
Does your company have a solution, technology or equipment that could help support the CBRN/WMD Defense community? Reserve your booth space now.
Interact with WMD sector leaders and industry partners to highlight CBRN / WMD Strategic, Operational and Warfighter level issues at Home and Abroad to adequately adapt to the CBRN/WMD threat environment.
Gain Access to Global Leaders, Experts, Users and Decision Makers with the Following Responsibilities:
Personnel Decontamination
Defense Support of Civil Authorities
Biological Identifying
Radiation and Explosive detection
Biosurveillance
Chemical Warfare Agents
Military & Civilian
Nuclear Defense
Medical Countermeasures
And, More!